The ONLINE SHIFT – Improving your remote presentation skills
Engage your remote audience – read the virtual room – successfully present online.
If you are delivering presentations to a remote audience, and …
You're not able to see your virtual audience?
The feeling is not the same as if they were in the same room?
You're not getting reactions and there are awkward moments of silence when you ask a question?
Plus, the connection is unstable?
Then you're ready for the Online Shift!
Challenges in Remote Presentations
According to my experience and a little research on virtual meetings & presenting from home,

not getting reactions (70%)
not being able to see the audience (65%) and
technical problems (50%)
are the major obstacles we face when presenting online.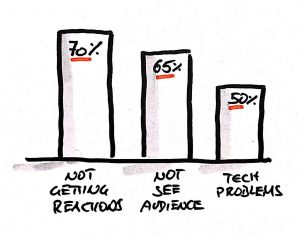 So, this is what the Online Shift is all about!
You'll learn how to:

Connect with your remote audience
Read the virtual room
Have a plan B for connectivity
Plus: Convey a professional image in front of the camera
In General: Feel more comfortable when presenting online to a remote audience via video-conferencing platforms like MS Teams, Zoom or Webex.
Ulrich's course on effective remote presentations was very interesting, practical and well done. It was much better than other courses that I followed, including courses from a renown British institution, that was "more waffle than meat". Congratulations for your course and your natural way of teaching!
Problem #1: Not receiving feedback leaves you totally blind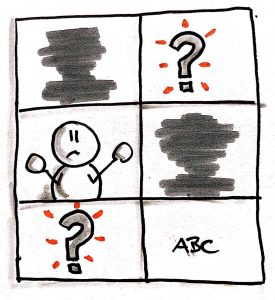 If you don't see your audience, you cannot adapt to the current mood of your audience. Neither your voice, nor your body language or the content of your presentation.
So, it happens much easier that you miss out on the interests of your audience. As a consequence, it is easy for them to get bored, distracted or start multitasking.

So, how can you see your audience in online presentations?
How can you get them to switch on their cameras?
How to establish eye-contact with them?
In the online shift, you'll learn how to get your participants to switch on their cameras and how to establish eye-contact with them!
Problem # 2: Not being able to see your audience while presenting
With most video-conferencing platforms, as soon as you start sharing your screen, your view of the audience is reduced to a few small video tiles.This makes it hard to see their body language, facial expression and so on.
It's definitely difficult to read the virtual room! You don't know if what you are telling them is actually interesting for them. And you don't see if they are looking at the slides, nodding, making eye contact. Or checking their mail and drifting off…
So, how can you see what your remote audience is doing while you're sharing your screen?
How can you read their body language if they are so small?
How can you establish eye contact with them?
In the online shift you'll learn how to read the virtual room, even while sharing your screen!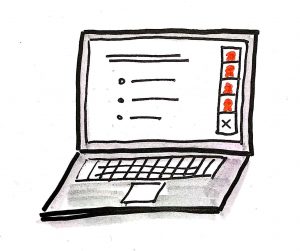 Problem # 3: not getting reactions from your remote audience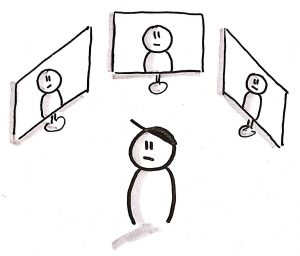 Interaction definitely is key in remote presentations. So, let's assume that you already got rid of your 20+ min frontal presentation style. Because a 20+ min monologue is already tough in a face-2-face setting but, in my experience, will kill your audience in a remote setting. No way that they're going to sit through that!
So, let's assume that you are trying to engage your audience with some kind of interaction. Asking them a question once in a while. Or maybe using virtual interaction tools such as mentimeter. Good place to start!
But what if nobody answers your question?
If your question is followed by an awkward moment of silence?
If people simply don't engage as much as they would in a physical room?
In the online shift you'll learn how to prime your audience for interaction and how to avoid those awkward moments of silence after asking a question!
My name is Ulrich Schubert and I'm a psychologist, management trainer & executive Coach, certified by the EASC (European Association for Supervison & Coaching). I have been accompanying hundreds, probably thousands, of professionals in their personal development during the past 10 years.
I've seen uncountable presentations about almost anything that I can think of. Be it data driven or inspirational. Be it project updates or product presentations. Be it in front of small or large audiences. I've seen great presentations that moved the audience and I've seen really bad ones that make you fall asleep instantly.
In 2020 I've seen a couple of hundred online presentations. And I've delivered more than 100 myself.
All this experience is what I'd like to share with you. Will you join me in the Online Shift?
(Use promotion code SHIFT50)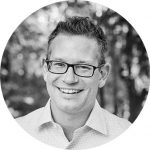 After 10 years of delivering face-2-face training sessions on presentation techniques, the corona crisis came as a shock to me. It was the start of the spring season 2020. I was fully booked for the next months and it looked like it was going to be the best season ever! And suddenly, within a day or 2, all my gigs got cancelled. Damn…

So, I moved online! 2 weeks until my first virtual training session. Testing and experimenting with Zoom, Webex, Teams. Camera, light, mic, amazon orders... Is the connection stable? Steep learning curve, first session: Success! Yay! Needless to say, that my 2nd session was a disaster…

I started figuring out how this Zoom-Webex-Teams world works if you need to connect to your audience and get your ideas across. How to connect to a remote audience? How to make them part of it? How to get them to switch on their cameras, unmute and speak up? How to read the room? How to build relations over the distance?

Step-by-Step, I found my answers.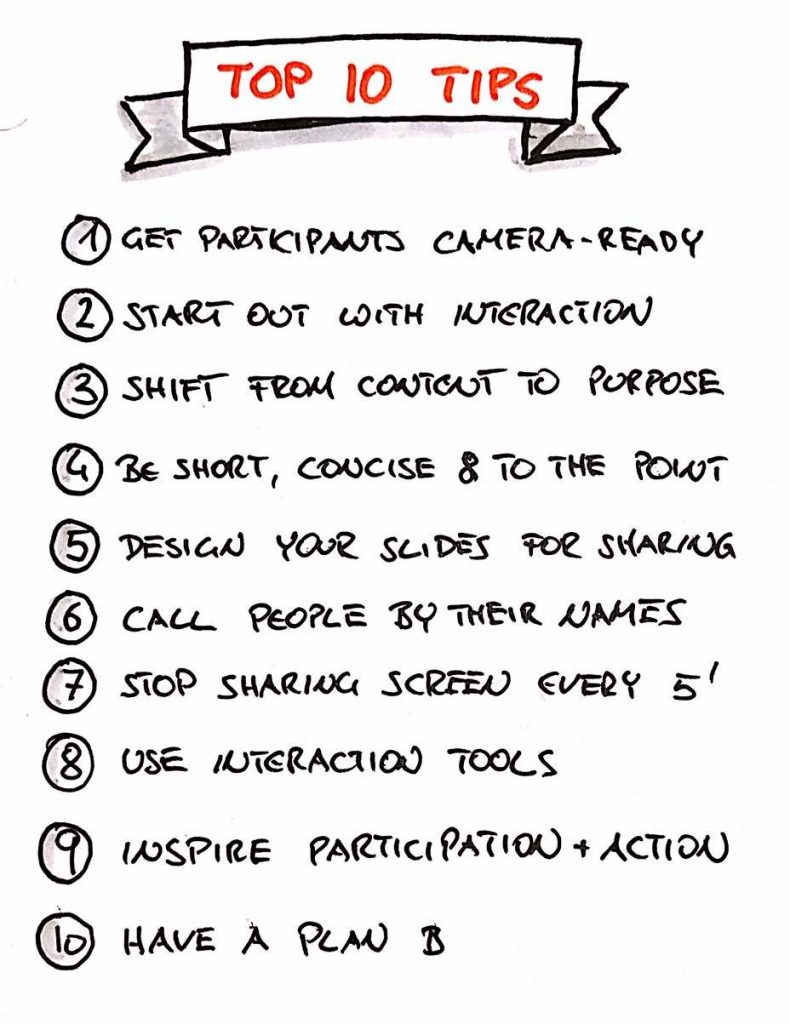 Tired of blind-flights when presenting remotely?
In the online shift, I'll share all my tips and tricks of online presentations with you. No bullshit, no hype, just plain experience, feedback learning.
Let me share some secrets for presenting remotely with you:
Get your participants camera-ready
Start out with interaction
Shift from presenting content to inspiring purpose
Be short, concise & to the point
Design your slides for sharing online
Call people by their names
Use virtual interaction tools
Inspire participation & action
Have a plan B for connectivity
WARNING: If you already do all of this as a regular habit, then probably this course is not for you. If you're a pro of online presentations & events, if you know how to engage your audience, know how to read the room, how to get around technical obstacles and use virtual interaction tools to your advantage, don't take this course.
What does the Online Shift do for you?
The Online Shift takes you on an online learning journey towards designing & delivering better remote presentations.
There is no "Don't have no time", as this is an online course that you can follow at your own pace & rhythm.
The ONLINE SHIFT includes 3 Modules divided into 22 lessons for a total of 5,5h of video material. Study time is estimated at 22h (3 working days).
(Use promotion code SHIFT50)
SPECIAL SOFT-LAUNCH OFFER -50%
Building an e-learning course is quite a lot of work! And as I'm putting a lot of effort into developing it, it's not completely finished yet.
As you probably know by now, the ONLINE SHIFT consists of 3 modules and so far, I completed module 1 (5 lessons) and am currently working full throttle on module 2. I expect to finish it by mid April 2021.
But hey! That's why I'm offering a special – one-time-never-to-come-back-again discount if you sign up during this soft-launch period! You can get the whole ONLINE SHIFT course for half the money!
I guarantee that there will be at least one new lesson added every single week until it's finished.
Also, as soon as module 2 is finished (expected mid April 2021), the price will go up…
(Use promotion code SHIFT50)
Ulrich remote presentation skills training exceeded our expectations. The course was structured in a very engaging way, it was well balanced between theory and practice, interesting, and it covered everything that was promised. I thought that it would be a challenging topic being trained remotely, but Ulrich created the feeling of being together in an actual classroom and the group had very good take-aways."
This I what you'll get in the Online Shift
5,5h of video material divided into 22 lessons of 15′ each
Estimated study time 22h (3 working days)
Practical hands-on exercises to complete after each module
Worksheets to guide you in the exercises
OPTIONAL group- or individual coaching sessions to practice & improve
Copy of the slides shown in the videos
Checklists for your virtual events
My personal shortlist of virtual interaction tools to use in your virtual events
Tips & tricks to make your online events more effective
Access to LinkedIn Remote Presentations Community
(Use promotion code SHIFT50)
Temporarily FREE group Coaching Sessions
The ONLINE SHIFT will include optional coaching sessions to practice and improve your remote presentation skills. Be it in a group- or individual (1:1) setting. I know from experience that those are great occasions to practice your presentation skills and get feedback from peers and me.
So here's the treat: Until I figured out how to implement this in the payment system, I'm doing FREE group coaching sessions on your remote presentations every 2 weeks for all those who sign up to the online shift while the offer is valid!
We will do ZOOM sessions of 1,5h where you will have the opportunity to present live on the virtual stage for 5mins and get feedback on your performance from other participants and me personally.
My experience from 10 years presentation trainings simply shows me, that practicing live and receiving feedback on your performance is an extremely valuable experience that enables you to learn & improve your remote presentations skills a lot!
So, take advantage of this special soft-launch offer and join our first group-coaching sessions (valued at 50€/session) for free!
(Use promotion code SHIFT50)
I would dedicate a special mention to the online sessions focused on 'remote presentation skills' we held at Dow Jones. These sessions have been very practical, allowing me to immediately identify some of my blind spots, better understand the communication challenges associated to this new 'environment', and make the best of the tools available. I highly recommend Ulrich as a trainer in general and would definitely encourage others to join his 'remote presentation' skills course