Intercultural Communication Training
How can I understand and manage cultural differences?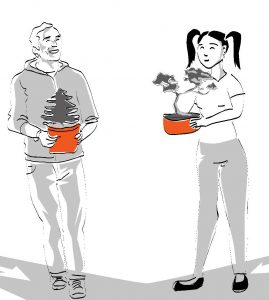 In our increasingly global world we meet and relate ever more frequently with people from other countries and cultures. In principle a diverse and stimulating environment, but at times also frustrating… Why?
We all are the children of our parents. That is to say, we all have learnt the values and norms of our native societies and incorporated them deeply into our mental framework and perception. Obviously, the same is true for people who grew up in different cultures, only that their values and norms are slightly different to ours. And that's where the trouble begins.
Our values are not better or worse than other cultures', but yes, they are different. The mistake we tend to make when dealing with foreigners is to interpret their actions within the same mental framework that we would apply to a person from our native culture. And for that very reason foreigners often seem to act inappropriately, unreliably, out of place or simply rude. The thing is, that most likely they have the same perception of us!
In our intercultural communication training, participants first learn to reflect and question their own values and norms; because only in this way can they reach an understanding of their own cultural filter. Only in a second step will we progress towards analyzing and understanding other cultures. Depending on our client's needs, intercultural communication can focus on leadership, motivation, teamwork or negotiation.
Objectives
Be conscious of your own cultural programming
Acknowledge the existence of cultural differences
Know and understand the main "dimensions" behind cultural differences
Develop intercultural communication skills
Methodology
Simulation of culture shock
Analysis of personal cultural experiences
Case studies
Role plays
Theoretical input

ATTENTION: The above described objectives, contents and methodology are just an example. All our trainings are custom tailored for our clients and adapted to organisation, objectives and participants' profiles. Contact us to talk about your specific training needs!
Related Training Formats