Gamification Training with LEGO® Serious Play®
Using the power of games to motivate, communicate and learn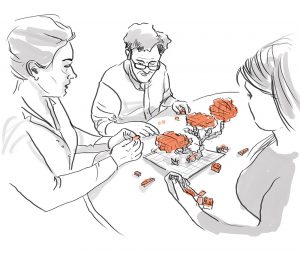 Are you introducing new systems that employees are slow to adopt? Do your employees have to do boring and repetitive tasks such as filling out forms and logging time or data? Do you have a knowledge base, learning program or internal forum that people hardly ever use?
At the same time you wonder how people can voluntarily spend hours swiping gems, balloons, kittens or other cute stuff across the screens of their mobile phones without getting bored and are eager to share their latest progress with other people in their network?
Why don't you take advantage of the power of games?
In our Gamification Training LEGO® Serious Play® trainings we give participants the opportunity to explore the effect and mechanisms of game based learning first hand. We have a closer look at the concepts of game, gamification and serious game and what differentiates them from each other. We look into different "game elements" that turn something serious into a game or a game into something serious. And of course we explore the psychological concepts of games on experience and motivation.
Objectives
Introducing participants to the concept of gamification and the key elements of games, its motivational benefits and a selection of tools for business application. After participating in this training, participants will be able to:
Define the concept of gamification and differentiate between (serious) games and gamification
Understand the motivational effects that games have on work- and learning related issues
Understand and apply the different elements of a game such as feedback, storytelling or competition
Use a selection of professional tools and apply them to their day-to-day business context
Use the Gamification Canvas© to create gamified experiences for their businesses
Key Contents
Concept of Gamification

Definition & introduction
Origins, today's situation, future trends
Business applications
Foundations of Gamification
Motivation
Rules
Learning
Flow experience
Toolbox
LEGO® Serious Play®
Story Cubes®
Gamification Canvas©
Methodology
Interactivity, active experience and learning by doing constitute the core methodology of this training course. Short theoretical inputs on the gamification concept, motivation, learning and human behaviour, will complement the hands-on experience, creating a mental framework that relates theory and practice. Participants will actively experiment with a series of gamification tools, covering business applications such as ideation, vision & strategy development, storytelling, prototyping, personnel development, verbal, nonverbal and intercultural communication, coaching, time management & leadership.
ATTENTION: The above described objectives, contents and methodology are just an example. All our trainings are custom tailored for our clients and adapted to organisation, objectives and participants' profiles. Contact us to talk about your specific training needs!
Legal notice: LEGO, SERIOUS PLAY, IMAGINOPEDIA, the Minifigure and the Brick and Knob configurations are trademarks of the LEGO Group, which does not sponsor, authorize or endorse this website or facilitator.
Related Training Formats: