Managing Remote Teams Training
Managing remote teams in times of crisis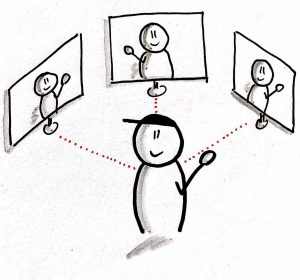 Managing remote teams is already a challenge in times of stability and growth. Our Managing remote teams training addresses the additional challenges that we as leaders need to address in times of crisis:
Being calm & strategic when everything else is changing
Being strong in ourselves and coaching our teams in adapting to change
Communicating, managing and motivating our teams over the distance
Our Managing remote teams training focuses on these specific challenges of remote leadership in times fo crisis.
Training Objectives
Providing the participants with the necessary skills, tools and mindset to manage remote teams successfully in times of crisis and uncertainty.
After participating in this training, participants will be able to:

Be aware of and refer to their values as guiding-star in uncertain times
Manage their time & themselves in their home-office
Assume the leadership role for their teams in times of crisis
Assume the coaching role to accompany their teams and enable self-organized work
Communicate clearly to avoid misunderstandings and rumours
Set-up and facilitate remote meetings
Communicate empathically to connect, protect and motivate their teams
Build trust in their virtual teams to enable cooperation
Manage stress, conflict and frustration in their teams
Key Contents
Self-Leadership Skills

Values as guiding-star in times of uncertainty
Time- & Self-management
Remote Leadership Skills
Leadership in times of crisis
Coaching skills
Remote communication skills
Remote meetings
Empathy & emotional intelligence
Motivation skills
Building trust
Managing stress, frustration and conflicts
Training Methodology
This is a remote training format, delivered via video conferencing platforms in 4 sessions of 2,5h each. Specific goals and objectives will be established in a briefing session previously to the start of the training.
The course will take a strong interactive & experiential approach offering participants room and possibility to observe, analyze and improve their own remote leadership. Participants will assume the role of team leader and will receive in-depth feedback on their performance. In practice this means the frequent use of practical exercises such as role-plays and case studies.
Best-practice advice, tips & tricks will be introduced in parallel by the trainer with the clear objective of increasing participant's skills for managing their remote teams in times of crisis.
ATTENTION: The above described objectives, contents and methodology are just an example. All our trainings are custom tailored for our clients and adapted to organisation, objectives and participants' profiles. Contact us to talk about your specific training needs!
Related Training Formats